Mission
At Ames Foot Clinic, our mission is to provide excellent medical and surgical care of the foot while treating our patients like we would like to be treated. We are committed to giving personalized service to all of our patients. All our professionals at Ames Foot Clinic maintain the highest levels of accreditation and pursue ongoing education to stay abreast of the latest trends in podiatry.
Mark V. Sorrentino, DPM FACFAS
Education
Dr. Sorrentino graduated With Honors as he received a Bachelor's Degree in Biological Sciences in 1985 from Loyola University of Chicago.
Dr. Sorrentino graduated With High Honors with a degree of Doctor of Podiatric Medicine (D.P.M.) in 1989 from the William Scholl College of Podiatric Medicine & Surgery in Chicago.
Dr. Sorrentino subsequently completed a two year residency in foot surgery at Leyden Community Hospital just outside Chicago in Northlake, IL in 1991.
Professional
Upon completing his residency in 1991, Dr. Sorrentino became an associate in the busy Chicago podiatry practice, Chatham Foot Specialists.
Dr. Sorrentino established his first solo practice in podiatry, Advanced Family Foot Care, which served Lilburn, Georgia from 1992-1996.
Dr. Sorrentino became an Assistant Professor of Podiatric Medicine and Surgery at the College of Podiatric Medicine & Surgery at the former University of Osteopathic Medicine and Health Sciences (now Des Moines University). While enjoying teaching a great deal, Dr. Sorrentino missed the patient contact element and then subsequently left the academic setting to pursue private practice again.
Dr. Sorrentino joined the McFarland Clinic, PC in 1998 in Ames, Iowa. He was with McFarland Clinic until 2001 when he wanted to take a few years off and stay at home with his young children.
After being removed from podiatry for a short while, Dr. Sorrentino has once again felt the great desire to return to private practice and has now established his new podiatry practice, Ames Foot Clinic, PC. Dr. Sorrentino is very excited to have the opportunity to again serve the Ames area!
Philosophy
My goal is to get our patients back on their feet and allowing them to be as active as they would like to be. This principle applies to everyone-- no matter what their walk of life. From children, to athletes, to seniors, we want our patients to have mobility and we want to keep them free of pain in order to allow them to maintain a healthy and independent lifestyle.
I enjoy working together with patients so we can together arrive at a treatment plan that they are comfortable with. I feel it is very important to keep excellent lines of communication open in order for us to achieve our goals.
I also am a firm believer in working with our patients who would like to exhaust conservative treatment measures before exploring more aggressive options.
Joseph Newman DPM, FACFAOM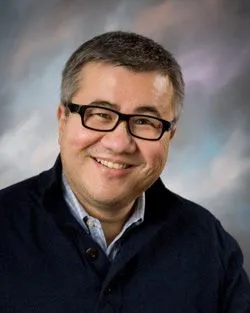 Education
Dr. Newman is a graduate of Des Moines University, having earned his Bachelor's degree in Basic Medical Sciences in 1987. He earned his Doctor of Podiatric Medicine in 1989. Doctor Newman completed his Podiatric Orthopedics Residency at Des Moines University in 1990.
Professional
In 1992 Doctor Newman entered into practice in Des Moines at Foot and Ankle Associates, PC in West Des Moines. He eventually bought the practice and changed the name to The Foot Center, PLC. He closed his practice in 2018.
After trying out retirement, he came to realize he missed patient care and working with a dedicated health care team. He joined Ames Foot Clinic PC in December 2018. He is excited to be practicing in Ames!
Doctor Newman is a Diplomate of the American Board of Podiatric Medicine. He also maintains active memberships in the American College of Foot and Ankle Orthopedics and Medicine, American Podiatric Medical Association, and Iowa Podiatric Medical Society.
Philosophy
Doctor Newman believes the doctor-patient relationship is the foundation for treating his patient. Listening to the patient, getting to know them individually and what their foot health needs are at the time of visit and beyond. He is here for you and you will never feel like a number.
Doctor Newman enjoys treating patients of all ages to keep the active, healthy, and happy. His special interests are diabetic foot care, heel pain, and nail disorders and infections.
His personal interests are spending time with his family, community service, and watching rugby. He also enjoys hiking, cycling, photography, music, and reading.